Embrace the True Christmas Spirit When Goopy Joins Santa's Helpers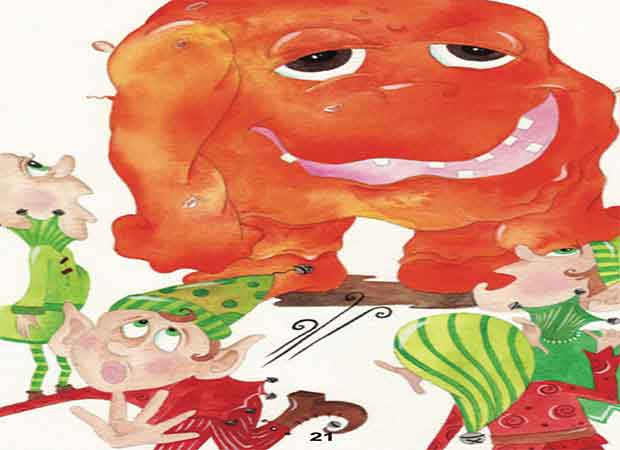 The Goopy Ghost at Christmas
The orange ghost was friendly
and smiled at Santa's elf,
but the elf was very scared
and ran to save himself.
(This ghost has true Christmas spirit.)
Revive Victorian ghost stories. Bust good ghosts. Enjoy ghostly pumpkin goop. Start your Goopy Ghost storybook collection here.
In The Goopy Ghost at Christmas, a child wants to keep the orange "spirit". The child's mother is not convinced.
Goopy's decorator designs for the season need some explaining. Santa will arrive to provide artful explanation.
True Christmas Spirit from Pumpkin Goop.
Pumpkins hold seeds of growth and wonder. Unexplained mysteries and hijinks give rise to true Christmas spirit and hope.
If cookies in Santa shape and in Goopy form are set out, would Goopy leave Santa's cookies alone? Goop splatters call for separate plates.
Traveling Fun with True Christmas Spirit
Life beckons Goopy to continue his roam to find a pumpkin home that isn't squashed, carved, baked or on fire.
Enlightened by his trip to the North Pole, Goopy leads children to explore lifestyles, opportunities, celebrations and places.
Christmas of yore featured fireside ghost stories. To help revive this tradition, below is a reading from The Goopy Ghost at Christmas.
Folks won't get goosebumps or act afraid of Goopy, but the dog may be a better performer than the author who is doing the reading.
True Christmas Spirt in Storytelling:
This is a brief reading from The Goopy Ghost at Christmas by V. R. Duin
Goopy wandered down a hall
that was dark, plain, and dreary,
so, the ghost began adding things
to make it bright and cheery.
Lilly watched from her bed as
that orange ghost used its goo
to paste ornaments on the wall
so they stuck like with glue!
Back and forth went Goopy
admiring its new art,
with dancing and gliding steps
that showed a happy heart.
"These are some of the miracles of Christmas seen through a child and a wee ghost. There also is a dog in the story. Goopy hugs everyone."