Double Thanksgiving with Ideas from Goopy's Story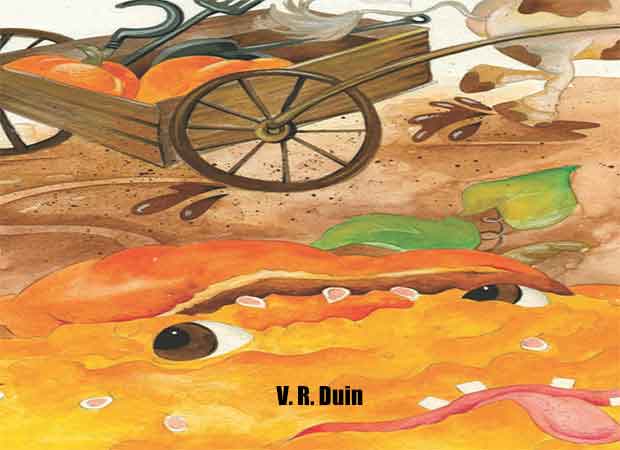 The Goopy Ghost at Thanksgiving
Goopy saw the water rising
and thought, I should be enterprising.
I'll do my best to help my host.
Oh yes, Goopy is a kindly ghost.
(Double Thanksgiving with this V. R. Duin book.)
Make a difference in your community. Double the thankfulness of kids and adults with this Goopy Ghost haunt. Find the book here.
Double Thanksgiving Haunts
Thanksgiving celebrates the harvests of the past year with group meals. Participants often celebrate at more than one location.
Splitting time is common. Innovative plans thrive with teamwork and diversity. Cramped isolation may be harmful and unhealthy.
Double Thanksgiving Spirit
To offer entertainment, spark conversation and meet attendance goals, ghosts may invite themselves. Someone else may not arrive.
This often-homeless ghost carries the performance of socially responsible acts to adults and children everywhere.
Goopy encourages children to learn new things and use their knowledge to benefit their communities.
This ghost sparks a whirlwind of childhood accomplishment that opens doors. Everyone is thankful when one success leads to others.
Double Thanksgiving Efforts
Goopy helps children build a sense of responsibility and respect. One person can make a difference. Working for a common cause helps kids meet like-minded friends. All the while, they are contributing solutions to problems, seeing results and gaining leadership skills. Celebrate success.
The following Goop on Fire video is born of the challenge to keep a town from going up in flames during a the dry season. (1 minute 24 seconds)
Transcript Particulars:
Super Emily visits Earth
From a star called Geminus.
Goopy Ghost calls her to help us.
Goopy Ghost:
"The town has a problem
with Campfires
during the dry season."
Invitation:
Camp in Town Square
Next Saturday
Pitch your tent
Potluck dinner
Live Music
Ghost Stories
Super Emily:
"We can solve it."
Goopy Ghost:
"While you tell the ghost stories,
I'll be the fire."
Super Emily:
"Scream when you see the Goopy Ghost,
making believe he scares you most."
"It's time for a warning:
For illegal burning,
we are not returning.
Prevention is our thing."